Digital Marketing for Small Businesses: An Introduction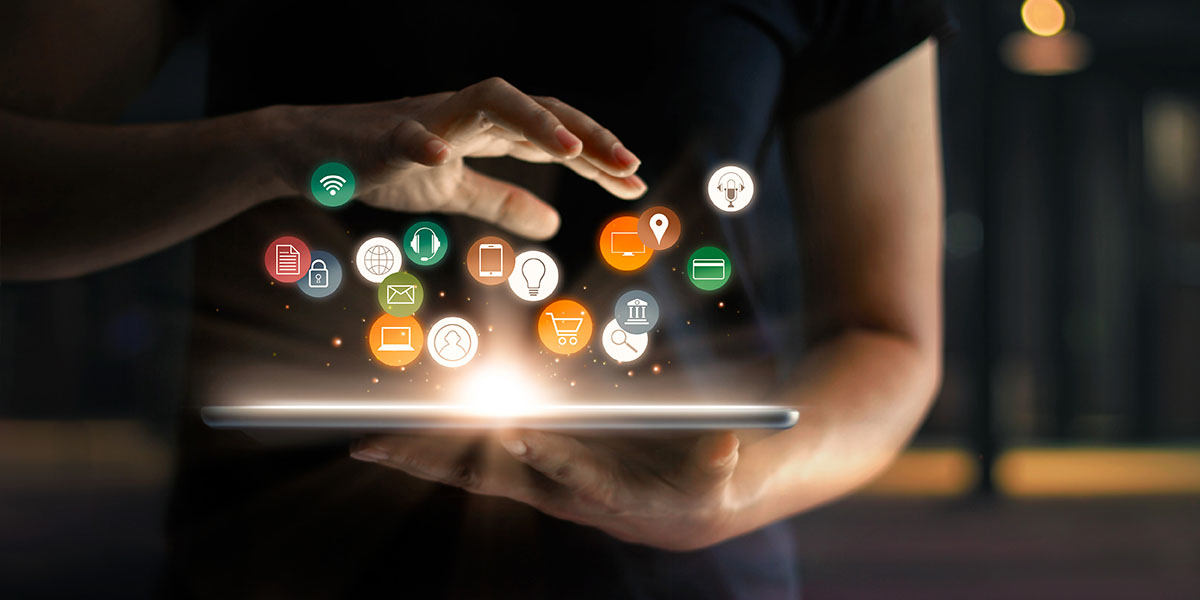 "Ignoring online marketing is like opening a business, but not telling anyone!"
We live and breathe digital nowadays. Every aspect of our lives is connected to digital devices in one way or the other. Whether this is a good thing is still up to debate. However, as a small business owner, your focus is to meet potential customers where they are—and that is almost always looking at a digital screen!
If you are a numbers person, digital marketing statistics are powerful in a way that no small business can hope to thrive without a good digital presence.
According to Statista, internet penetration rates are rising all across the world mostly due to the popularity of social media marketing. Companies of all niches and sizes are collectively spending billions of dollars on digital search ads, display ads, social media advertising, and mobile ads.
During the past decade, the share of digital in total ad spend in the U.S has grown from 17.7% (2012) to a whopping 60.39% in 2022. That is over $150 billion in USD, and the projections state that the number will surpass the $700 billion mark by 2025.
All that is to say that as a small business, you NEED digital marketing.
So, let's look at what exactly it is, how it can qualitatively and quantitatively contribute to the growth of your small business, and the specific types of digital marketing that you can incorporate into the digital marketing strategy of your small business.
What is Digital Marketing?
Digital marketing includes all types of marketing that happen in a digital space. This is everything from email, social media, websites, and search engines to mobile advertising and text messages.
To conduct digital marketing, a business or a brand needs a strong digital presence. This includes but is not limited to a dedicated business website that gives visitors a clear idea of the nature of the business, active social media accounts, reviews or testimonials from clients such as Google Reviews, mentions in online media outlets, detailed listings in the popular business directories that people use to find business and more.
Why is Digital Marketing Important for Small Businesses?
For small businesses, digital marketing and having a strong digital presence is all about visibility. Being visible to a large potential customer base help you generate more valuable leads which will eventually mean an increase in your conversions or sales.
A good digital marketing strategy also gives your small business more credibility, which improves the trust your potential customers have in you and your expertise in the niche that you belong.
Here are some other ways having a good digital marketing strategy can help your small business.
Digital marketing helps you laser-focus your advertising efforts on a specific target audience, increasing the ROI in your marketing campaigns.
Due to the high measurability of digital marketing results, you can continuously adjust your marketing efforts to get optimal results.
With enough creativity in your marketing efforts, you are in a fairly even field within your industry in spite of the size of your small business, helping you compete with even the big brands.
Online consumers often prefer authenticity and bespoke solutions offered by small businesses, which gives you an advantage over bigger brands in the digital space.
With the right practices, digital marketing can be highly cost-effective.
Types of Digital Marketing Small Businesses Can Use
If you are new to using digital marketing to promote your small business online, the sheer breadth of the industry and the numerous types of digital marketing methods out there can be quite overwhelming.
This article dives into four of the most basic but highly effective digital marketing methods that you can easily incorporate into your digital marketing strategy. Once you learn more about your audience and the type of marketing methods that apply to them the most, you can expand your strategy to include more complex types of digital marketing eventually.
Social Media Marketing
Social Media Marketing involves using popular social media platforms such as Facebook, Twitter, Instagram, and TikTok to increase your brand awareness and gather a dedicated following of potential customers. This is an easy and effective way to kickstart the digital presence and marketing efforts of your small business.
Depending on the platform, you can use images, graphic design, videos, witty text posts, and fact-rich long-form content to entertain and inform your followers. Unlike traditional marketing, social media marketing is all about being authentic, building trust, and providing value to your audience, so they organically feel drawn to purchasing the products or the services that you sell.
You can use paid ads in your social media strategy, but your ultimate target should be to build a strong network of followers who trust your business and are loyal to your brand.
Content Marketing
Humans love stories. From the time we gathered around a fire at night to tell each other stories at the beginning of our evolution, we have always loved a good story. Content marketing is all about using storytelling to increase credibility and interest in a business. Every great digital marketing strategy has a strong content marketing element.
Here are some of the tools that you can include in your content marketing strategy.
Blog posts
Infographics
Ebooks
Podcasts
Video content that provides value
Some of the most iconic small business content marketing strategies that propelled them to be in the big leagues include Buzzfeed, Canva's "Design School", Zoosk's infographics, and MailChimp's All in a Day's work series.
A more recent example would be Wordle, which was not exactly a small business, but showed how something small but engaging can go instantly viral as long as you continue to provide value.
SEO
SEO, or Search Engine Optimization, is an umbrella term that includes many things that you can do to optimize the digital presence of your brand in a way that it ranks higher in search engines. Every other digital marketing method that you use, including social media and content marketing, should be done with SEO in mind.
Good SEO practices are organic, authentic, and consistent over a considerable period of time. It is not something you can achieve in a day or two. The website of your small business, in particular, should be designed and developed with good SEO techniques from the beginning. Using relevant keywords in your web pages and blog posts is a basic SEO practice that is quite effective. Getting backlinks from high authority websites is another.
Think about SEO as the eggs you bake into the cake that is your digital marketing strategy, rather than the icing you put on the top to decorate it!
Paid Ads—Pay Per Click
Once you have created a strong digital marketing presence with organic reach as a small business, you can start using paid methods such as Pay Per Click (PPC) advertising to reach a bigger audience and drive more high-quality traffic to your business. Google Ads is a popular PPC ad tool that is commonly used. Many social media platforms such as Facebook, Twitter, and LinkedIn also offer PPC campaigns that allow you to strategically target their users to increase your audience, the brand awareness, and also drive traffic to your website. 
Looking for inspiration? Check out DesignRush's latest article to view the best trends in campaign design.
Modern Media's Digital Marketing Program for Small Businesses
Digital marketing allows small businesses to reach a virtually limitless audience which would have been impossible using traditional marketing methods. From social media marketing and SEO to paid advertising, digital marketing provides an excellent opportunity for your small business to increase its reach, sales, and brand awareness. If you currently do not have a digital marketing strategy, your small business is missing out on the opportunity to potentially become a viral sensation overnight with a little bit of creativity. So, get on it right away!